|

DOORS AND WINDOWS FOR HOSPITALS AND SCHOOLS
THE ITALIAN SUPPLIER OF DOORS AND WINDOWS FOR SCHOOLS AND HOSPITALS, PARTNER OF MAJOR BUILDERS
Safety and resistance, hygiene and performance are essential elements in the Hospitals and Schools sector.
This is why Cocif is the Italian supplier that has developed a specific collection of interior doors, specially designed for health facilities and educational structures.
Born from the partnership with an external studio specialized in offering design services for hospitals, nursing homes and schools: this collection meets the highest aesthetic, functional, hygienic and safety requirements.
The collection also includes several models of windows to offer a complete range to designers, builders and contractors who find in Cocif a fast and reliable supplier for the most advanced needs of contract furniture for schools and hospitals.
Hospitals & Schools Collection
The Hospital & School collection consists of 6 certified door models in compliance with the most stringent safety, hygiene, fire and soundproofing regulations.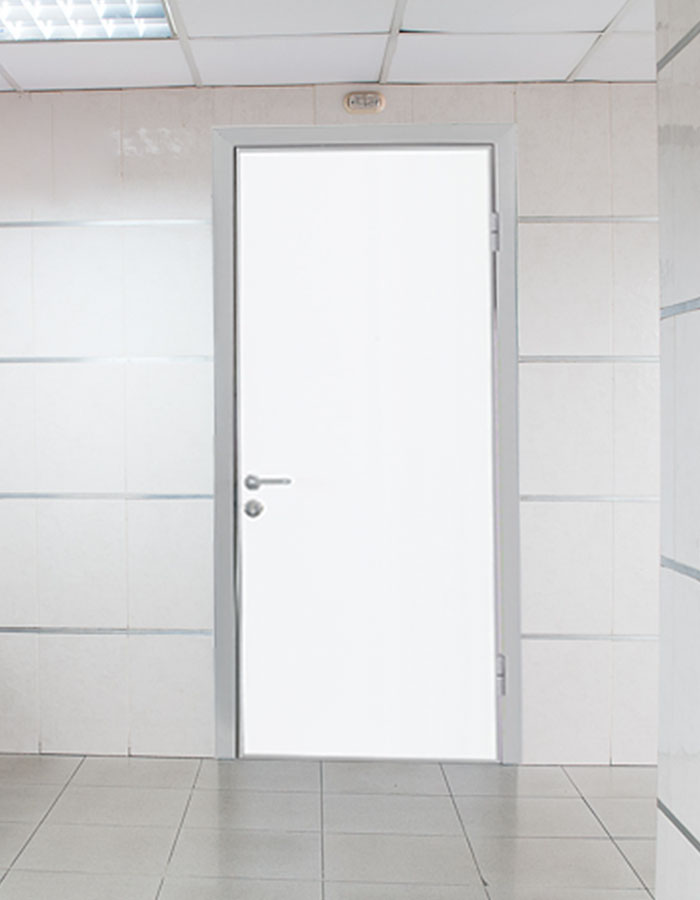 Main quality pluses
Interior doors in wood and aluminum, all Made in Italy, are designed for installation in rooms, corridors, bathrooms in hospitals and schools, characterized by flat smooth frames easy to clean and for maximum hygiene.
The external frame edge is 25 rounded, telescopic-type with 5 cm adjustability.
The leaf and the door jamb are perfectly coplanar.
The door leaf aluminum frames are securely assembled to the leaf on 4 sides, the aluminum frame is perfectly flush with the laminate surface with no visible screws.
The high-performance concealed hinges are elegantly incased into the recesses in the frame and the door leaf and can be adjusted in the 3 directions, always guaranteeing the door can be opened through 180°.
The strike plate plastic cover has been specially designed to allow adjustment of the door closure to avoid any instability.
The jamb gasket is gray or white and the steel strike plate is perfectly set encased inside the frame.
|

WHY CHOOSE COCIF

International in terms of vision and Italian in terms of design, each Cocif door and window integrates quality and design requirements in perfect harmony with the modern needs of schools and hospitals.

75 years of history that today are expressed in an exceptional production flexibility: exclusive models for the Hospital & School worlds and an ability to respond on demand to every need thanks to a complete reliability in every phase of operation.

With Cocif every door and window is the perfect partner for your project.
|

WHY CHOOSE COCIF

International vision and Italian design make each Cocif door combine quality with design requirements, harmonizing perfectly in all residential settings and large Contract works worldwide.

75 years of history that today are expressed in exceptional production flexibility: a collection of over 300 models of Italian design doors and ability to meet any specific needs thanks to the complete reliability of every operation phase.

With Cocif, every door is the perfect partner for your project.
|

QUALITY AND SUSTAINABILITY

In every Cocif door and window, the art of carpentry and stylistic research are always inspired by a woodcentric experience, a philosophy that has its core in the quality of the material, in its natural beauty.

This is why Cocif's wooden doors and windows are the result of a careful selection of the best woods, always coming from certified and sustainable forests, to furnish every environment with a unique product, both from an ethical and an aesthetic point of view.
Discover the other contract doors
|

GET IN TOUCH

For more information on the characteristics and prices of our hospital and school doors and windows, fill out the form.